Last week we had the premier of Kanal D's new drama series named Meryem. Starring Furkan Andic, Ayca Aysin Turan, Cemal Toktas, Acelya Topaloglu,Bastemsu Ozdemir,Serenay Aktas,Ugur Cavusoglu,Kenan Acar,Sema Ozturk.The plot revolving around Savas and Meryem two young people whom lifes mixed up with the worst way. Meryem is a young girl who works with her father. Loves with her whole heart Oktay, a lawyer who is passionate about money! On the other side Savas a rich man who has fallen in love with Sevinc a poor girl. His family doesnt give the permission about their wedding and trying to ruin their love. This night, the terrible night in which their fate will change forever, Oktay and Meryem made an accident and because of them Sevinc dies. Oktay is more ambitius and have decided that he will do his best in order to save himself. Thus Meryem accepts the responsibility and go to the prison. Savas swear that he is going to take revenge! But a forbidden love is going to born very very soon.
Ayca and Furkan have "chemistry" and I understood it from the first minute! They were PERFECT together in every single scene. The series is a full-drama. Reminds me old-gold turkish series like Binbir Gece etc. I hope that they are going to continue like this! Ayca is a fresh face but she stands very very good by Furkan's side! They are so awesome! The scene that I post broke my heart..Every love starts with a huge hate.!
Meryem loved and thats why accepted to go to the prison only for Oktay. 8 years..This destroyed Meryem...But a little more Savas's eyes, Savas's looks! Savas is the good one the rich guy who loved a poor girl not his money. Meryem and Savas have the same characters,they are kind and passionate lovers
.
They have so many things in common! Im in love with every single part!
I loved the music as well! KIRAC! The most perfect! It reminds me as well Binbir Gece! Eylem Aktas "Hasret" song with a new version is the best part of the series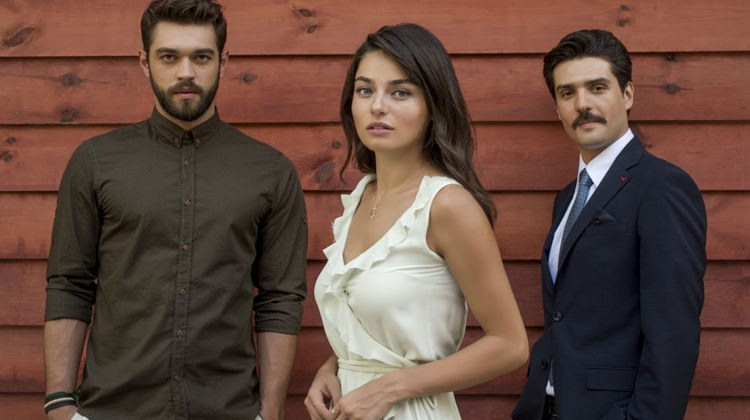 Meryem ratings were pretty good. Specifically took 8.22 total score and 13,60 on the younger's part. On the other side took 32% on social media and managed to win No 309.
Now we waiting Wednesday in order to watch the second episode. Trust me and watch this summer Meryem's series!!!!!!!