Last weekend I was sick so I decided to pass my time by watching turkish cinemas that I had to watch for a long time(some weeks but it seems like century xD)..So a made a little search and I saw again the trailers for some movies which I loved to watch.Thus I take the decision to watch 3 different movies...A historical romance drama,a comedy and a classical drama.Today I'm making a review about them down below.Enjoy and decide if you want to see some of them!
SURGUN
I had a need to see a historical drama.I don't know why but I think that I haven't study well this factor xD So I saw again Surgun's trailer and it made me sense.The story revolving around Eleni a greek wealthy girl who study at the same university with Sedat a turkish guy.Both of them recognize from their childhood and want to be teachers. Eleni&Sedat want to be married but Eleni's father,Stavros doesn't give the permission. One day due to Cyprus Deportation Stavros being a banisher..Eleni had to follow him and leave Sedat.But Sedat make his bests to help Eleni and her family and put himself in danger.The two lovers live a separated life when Sedat go to the prison...Ege their child had born but Sedat don't know it. After 20 years Eleni and Sedat meet again each other but everything has been different.Sedat continued his life in contrast to Eleni who waited him for a lifetime.....
Movie's end its a bit "without meaning and why ending"..Eleni left little Ege to his father and go away without saying a word...Movie's quote is "If you love someone left him free...If he will come back to you he were mine if he don't you haven't ever become"...So I think that the writter&director wanted to reflect this quote in the end..I mean that Sedat didn't come back to Eleni but Eleni did.So she was him but he wasn't...Although I think that this love was true and Sedat loved with his whole heart Eleni despite her cultural,social differences.As far as it concerns performances I think that Saadet Aksoy wasn't well enough but not indifferent.Tolagahan Sayısman gave a better performance which made sense. Mahir Gunsiray&Ruhsar Ocal were good enough! The music was classical.I loved very much the song named Hatirla Ey Peri (Remember fairy)...So as a result I think that I would watch this movie again if I had free time!I recomend you If you want to travel in different eras.
Kocan Kadar Konus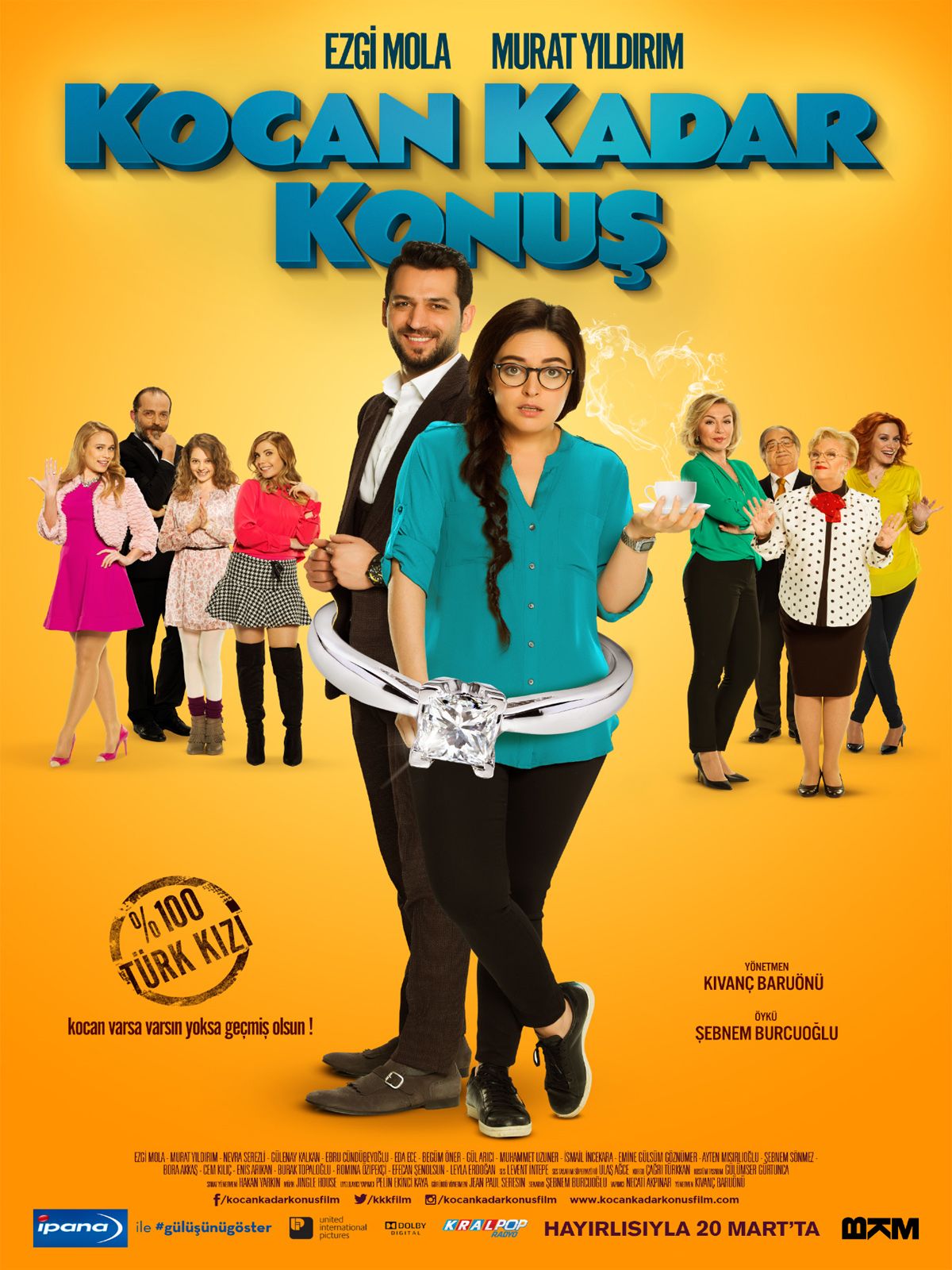 A widespread comedy that I want to watch a long time! Starring Murat Yildirim&Ezgi Mola,based on a best seller.Efsun is a tipical turkish woman at the age of 30 who hasn't a relationship and searching for a hasband! She met by accident Sinan her first&only love from school.Sinan was also in love with Efsun but anyone didn't admit to each other.They remember the old days and their endless love again.But Sinan thinks that Efsun has changed&her only need is to be married! The movie has been ended in order to has a sequel! My first impression is that I had fun with this movie and forgot my personal problems!:P I will watch it again!! Ezgi &Murat are a legend!The music was by Model and I loved every single part of it especially the song Golgede Buyuyen Cicek which will make you want school&childhood back xD Now I'm preparing to watch Kocan Kadar Konus 2: Dirilis which I think is the last one although I don't know if will has a sequel as well,there aren't any announcement or something.All the movie is a true comedy and give as the sense how a turkish family is real be!! The funny quotes are so good and was making sense too!;P Especially on bar scene!Watch it and you will gonna remember me ;)
Bana Adini Sor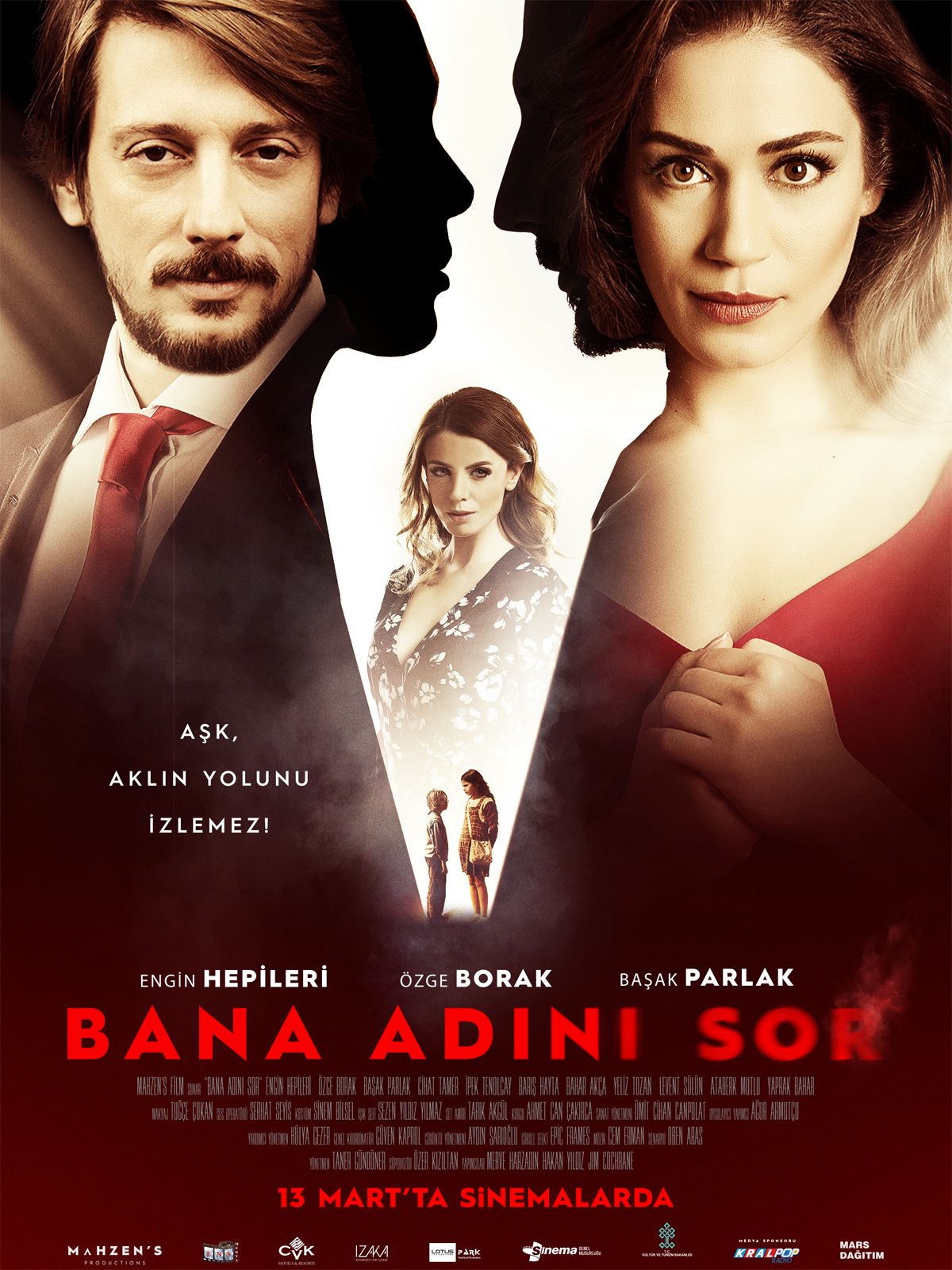 And the last one which called Bana Adini Sor(Ask me your name) is a typical turkish social drama.I want to watch this movie only for Engin Hepileri who is by far one of the best turkish actors I had ever seen!The story revolving around two best friends...The girl is secreatly in love with the boy but he doesn't knows...then he fall in love with another girl and passes the best time of his life although his best-friend dying inside by seeing him happy with a woman lie Merve. One day everything get changed.Hakan has a terrible ilness...Merve abandoned him but Yasemin,his best friend,stays by his side.Because this is a real pure love!I will not give spoilers but I reccomend this movie if you want to see what the power of fidelity can do. Im also satisfied as far as it concerns music! I have only a notice: Firstly you will get a little bored but after the 1 hour you will see what the senarist wants to tell us! ;)
BALIK
Last weekend there was turkish film festival days in my country,Greece. Unfortunately I'm only 16 and I couldn't watch all the movies.I managed to go and see only one! The name of the film was Balik which means Fish. The movie begins with a myth of a fish which can be the cure of Kaya's daughter who is unable to speak.This movie is exactly for a festival! It isn't something wow but it has an interesting especially if you like this kind of movies!Notice: Starring Bulent Inal who is a veteran actor!If you want to watch something different try it! :)