Burak Ozcivit will be in Greece on 13/10 for Turkish Film Festival in order to present his movie "Kardesim Benim:My Brother"...Unfortunately will not be everyone to see our lovely actor because the event will be "closed"...Although everyone can attend the other two days the 14 and 15/10 with meritorious movies such as Unutursam Fisilda,Balik etc.
As I told to you to my last post, Monday is a difficult day! Many series fight for the first place! 19/9, the first day of this fight ended two weeks ago..Kirgin Cicekler was on 1 place,Icerde on 2,Paramparca on 3,Babam Ve Ailesi on 16...Second week Icerde was the big winner,second place Kirgin Cicekler,8 place Babam Ve Ailesi,11 Paramparca...Unfortunately Paramparca seems to lose this fight....3/10,third fight Icerde became one more time the big winner,Kirgin Cicekler gained second place,Babam Ve Ailesi 5 and Paramparca 6...Today is the 4 day of fighting and we waiting to see the big results.
Serenay Sarikaya&Engin Akyurek come back with a new series from Tims Production &Atv!This year tv sector will face a big wave of come-backs! Esaretin Bedeli will be the name of the series which will gonna rock! According to my last infos the series will be on aired on January!
Bu Sehir Arkandan Gelecek: I just loved this series!I really loved it!Ali a guy who lost her mother will be back in the town which hate most-Istanbul-He will be in love with the daughter of his mother's criminal!We already know that "This town will follow you" main's role will be Kerem Bursin but there aren't any valuable info just reputation about the actress who will gonna play by Kerem's side and says that will gonna be Ezgi Eyuboglu .Both this series will begin on January!:D
Seviyor Sevmiyor won an award from South Korea!This turkish-hit don't give up!Couldn't anyone understand that this series will make such a success!So it won Best Comedy Series from a well-known event!In addition it has the first place on Sundays!
Ikimizin Yerine Efsanesi: Serenay Sarikaya,Nejat Isler&Zerrin Tekindor taking part in this movie which will be a real myth!Final countdown and the beautiful movie will be on cinemas on 21/10...The movie narrates the story of Cicek a student who fall in love with her teacher Dogan..Although a big secreat between he and Cicek's mother will separate them...In my opinion Cicek's mother had a relationship with Dogan and maybe Cicek will be their daughter.But it's a bit extragarating a think.Nevertheless I wish that we will learn very soon the main ypothesis.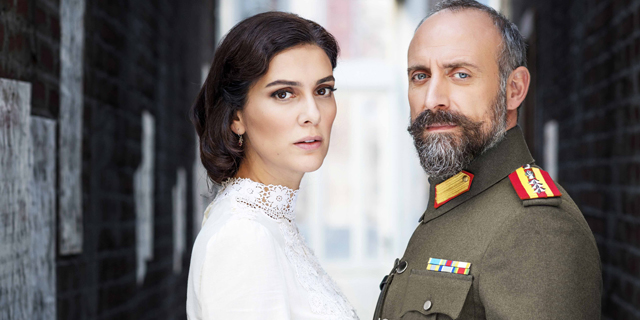 Vatanim Sensin: First trailer of Halit Ergenc&Berguzar Korel's upcoming series is out.The series will tell us about Izmir and a love which is going to blossom under those difficult circumstances! In the series will take part also Sebnem Hassanisoughi&Onur Saylak.
Poyraz Karayel will be on aired this Wednesday with a special episode...Poyraz Karayel series's actors said that this season will be very very different and every episode will be like a final! Although all of us want to see Ilker in order to calm down...However will make patience till the big day!
Yildizlarin Altinda was the upcoming series of Fox Tv.However for an unknown reason will not be aired by Fox Tv but by Star Tv!
TRAILER WHICH HAD BEEN ON AIRED
Anne
Kosem Sultan
Ikimizin Yerine